I was in Rome at the Joomla World Conference. The stay wasn't planned. I was the lucky winner of two conference tickets including all evening events. Thanks a lot to a company called Aesir who paid the tickets!
The other ticket I gave to Maryna Shandak
Because of the way I got this ticket I was thinking a lot about the sponsors of an event like Joomla World Conference. Who are they and what do they expect from their sponsoring? I mean, we are living in highly optimised times, so how to measure the success of an investment in sponsorship?
On hand I was interested in their products, on the other hand I always try to have a kind of personal contact to someone inside the company. For me it's always helpful to connect faces, names, products, services, features , social media accounts of the employees all together in a "virtual landscape" in my brain.But before I go deeper into this topic I want to tell you who the sponsors were and the country they came from. If anyone knows, where Acyba, GrowUnder and InspireTheme are based, please tell me.
These where the wonderful sponsors of Joomla World Conference 2017. They paid roughly 100000 US$!
Diamond sponsor
Gold sponsor
Silver sponsor
A2 Hosting – USA
Joomla Website Collective
Bronze sponsor
Dinner sponsor
Booth
Track sponsor
Giveaway sponsor
Break – sponsor
Dinner
Chargingstation
Lanyard sponsor
Italian Community
Hosting sponsor
Video & Image Sponsor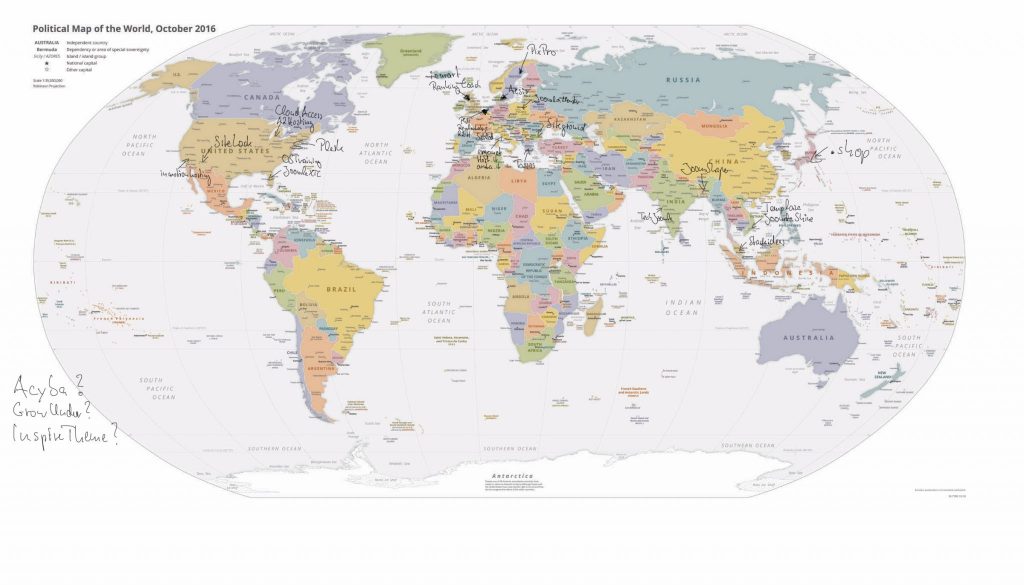 [Update for the map]
Acyba is based in Lyon, France ,
Plesk is based in Schaffhausen, Switzerland, 
InspireTheme is bad in Sofia, Bulgaria
When I attend a conference I'm interested in networking and attending sessions. But of course I'm also curious about the sponsors and their products and services. Where people come from is important to me too, because I'm always interested in the background of everything (I'm a questioner ;) ). One of the two diamond sponsors of JWC17 (JoomShaper) is based in Bangladesh and I assume it's quite hard to run a company in Bangladesh. The other diamond sponsor comes from Denmark (Aesir). Aesir organised a ticket lottery and as mentioned above, they paid for Marynas and my tickets – thanks again!
When I'm visiting a booth on a conference I'm interested in the people too. Are the representatives of the company competent? Do they know what they sell? Do I get answers to my questions? Often it is not easy for me to figure out what they are actually selling. If it is about Joomla extensions, templates or hosting it's relatively easy but if it is something more abstract like RankingCoach I'm a little bit lost to be honest.
The first session I attended was about brand marketing and I got a better idea of why it is sometimes hard for me to understand what companies are selling. They often invent stories, logos, visions, and all the buzzword compliant structures to scale. When the brand becomes strong enough they start to create more "products" and "services". I know the mechanism and it's somehow necessary to do it. Then after the session I thought
"… hm, am I a kind of brand? Who created me/it?"
My name is still a bit known in the Joomla community and that surprised me (hehe, maybe I'm even a stronger brand than I think). I met people that asked me for PDF files of books I wrote years ago. Even if I'm not heavily involved in Joomla anymore, I still like the project.
Thinking about that I noticed that some of the sponsors where kind of "one man armies" like me. Tasso and Peter van Westen are examples. They are developing useful stuff and selling their extensions online.
I would love to listen to more stories about the sponsors.
Why do you sponsor?
What do you offer?
Why do you offer exactly this?
How many clients do you have?
In which countries?
What is/was the reason to choose Joomla?
What is the "real" story behind your product, service, business (don't worry, I'm just curious).
Parth Lawate for example gave a session and presented some projects, his company started and told the story behind. While listening to Parth I sat next to Abishek Agrawal. I know him from JWC in India 2015 and after the session I asked him about his story. It started when he was 16 and when he turned 18 he managed to earn 50 US$ per month with his business. Today he runs a company with 19 employees in several offices. I don't want to tell more details because I think it's too private and it's not my aim to tell only success stories.
My aim is more to understand better the Joomla project at a whole. It's not only about unicorns, friendships and party. Most of the time people try to find a way to make their living.
In the Joomla in Action session I joined the Marketing team and recorded interviews with attendees of JWC. I was blown away by the answers to my questions. I was instructed to ask always the same questions but I was often curious and asked detailed questions depending on the answers.
People in Joomla are so diverse and interesting!
So … if you are interested to tell me your story, the story of your products, your business, an interesting fact about Joomla, contact me! I would love to talk with you and if you don't mind, I write about it.