So I installed Nextcloud Server and the Nextcloud iOS App and the OS X desktop client. I'm syncing my photos and other files and I'm so happy that everything works. I mean, not in the way "Yeah, it works somehow and I like it because it's open source software and they are the good ones". No, it's more like
It works fine awesome, the data is were I need it! I don't have to think about!
But the best thing is …
There is more to discover and there will be much more in the near future!
I discovered Nextcloud Apps! They are hidden behind the little + in this popup.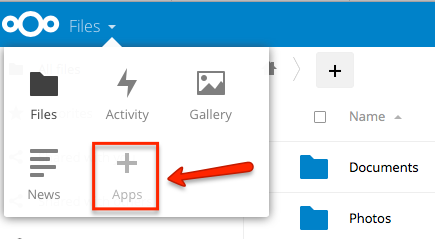 I didn't know, that there is a whole ecosystem behind that little +. Beside the shipped apps there will be a whole new App Store created by Bernhard Posselt and many other contributors. As far as I know the Nextcloud App Store will be fully operational from the Nextcloud version 11 release (will be in 2016) on. The beta version is already online and it looks promising (https://apps.nextcloud.com/).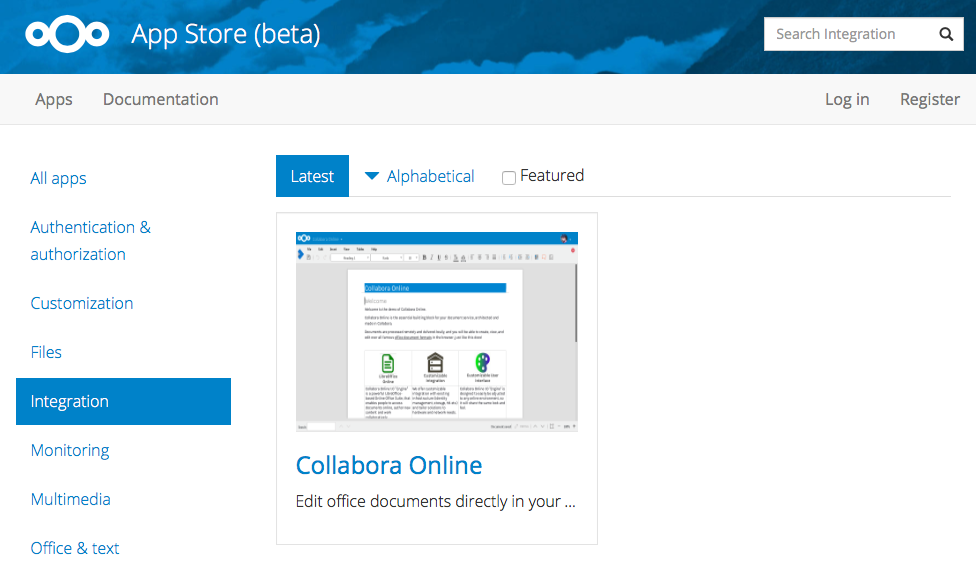 Shipped Apps
Before we talk about the future let's have a look what is already available. The core nextcloud server package comes with official apps, which are developed by Nextcloud directly and with approved apps. Approved apps are developed and supported by the community and approved by Nextcloud as "so good" to ship them with the core package.
Official Apps – Enabled by Default
The following Apps are official and enabled. They are the real core package of your Nextcloud Server. Because they are necessary and simply working I didn't pay a lot attention when I installed Nextcloud for the first time but it's worth to have a look what the whole core system is about.
Activity
Activity is a kind of Facebook timeline. You can see, ordered by date, all your shares, comments, favourites, uploads and the activities of remote users who are connected to you via the federation system.

Auditing / Logging
Logging is necessary and in this case it's about PHP. You can choose what to log and you can download the log file to look for the reason of the entries.

Collaborative tags
Every user can tag files. The tags are stored and offered to all the users. It's a great feature for your personal cloud or for teams. If you run a bigger installation with plenty of users that didn't know each other you should disable this app to avoid confusion.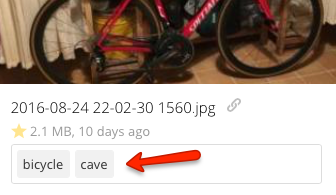 Comments
Yeah, it's possible to comment on files
Deleted files
This app enables users to restore files that were deleted from the system. Restoring a file also restores related file versions (versions app has to be enabled).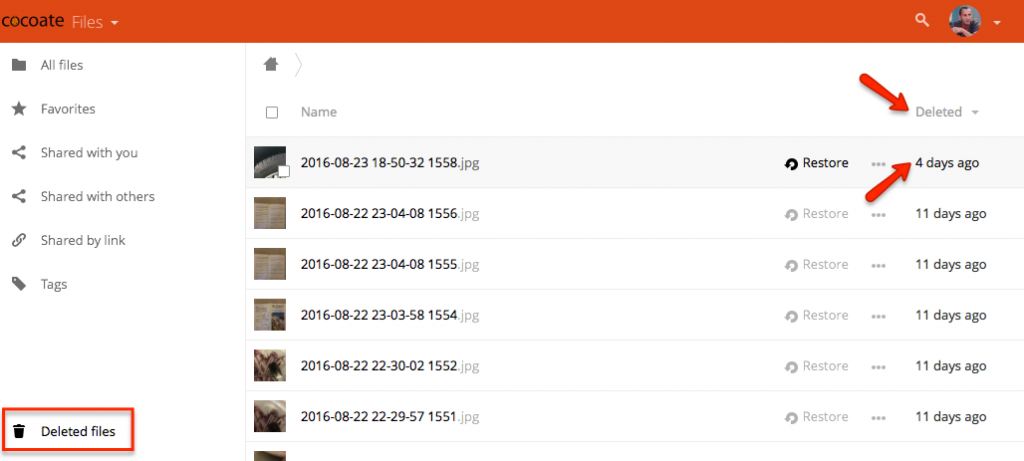 Federation
Federation allows you to connect with other trusted servers.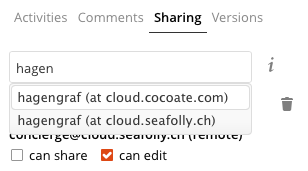 File sharing
The file sharing app implements the whole process of sharing files within Nextcloud server.
First run wizard
This app enables the popup that appears when a user logs in for the first time.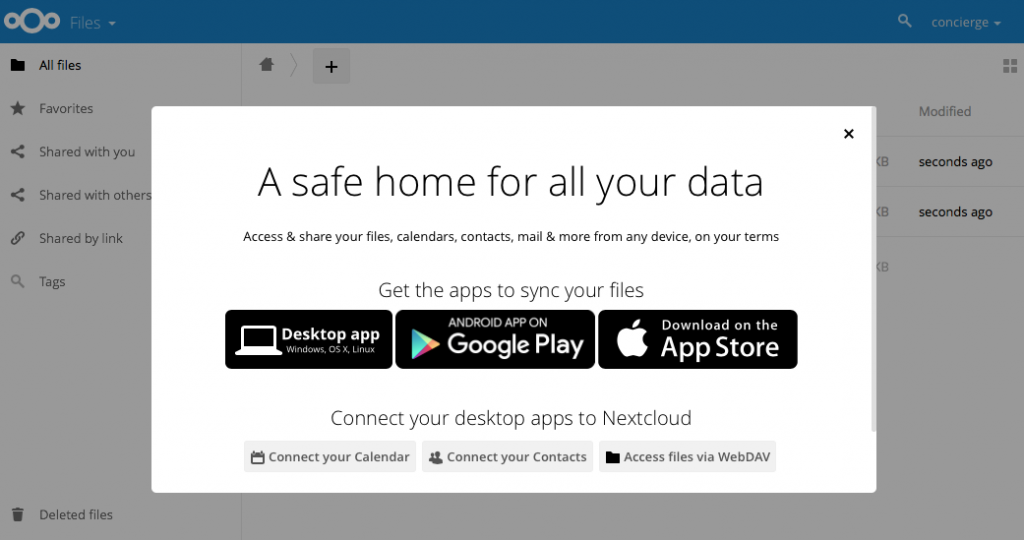 Notifications
The app send notifications for example when you receive a remote share.

Password policy
Manages the password policy on your Nextcloud Server. Common passwords are taken from https://github.com/danielmiessler/SecLists/tree/master/Passwords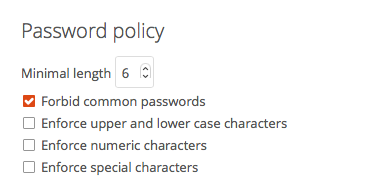 PDF viewer
I uploaded most of my books to have enough to read …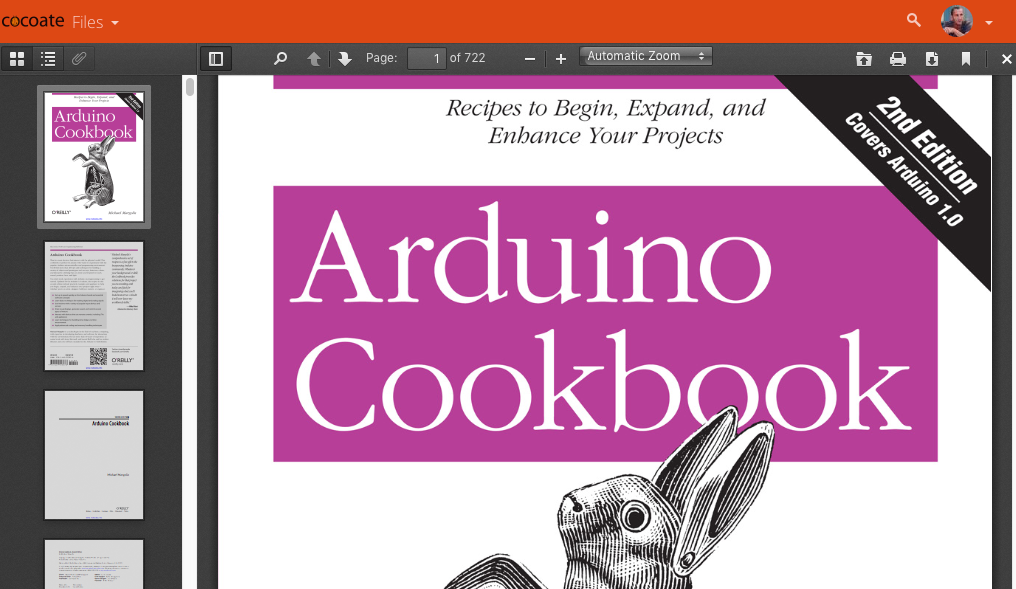 Provisioning API
Enables external systems to communicate via API with Nextcloud. For example the url http://admin:secret@example.com/ocs/v1.php/cloud/users -d userid="joecool"-d password="secret" creates the user joecool with the password secret.
Server info
Information about current CPU load, memory usage and active users.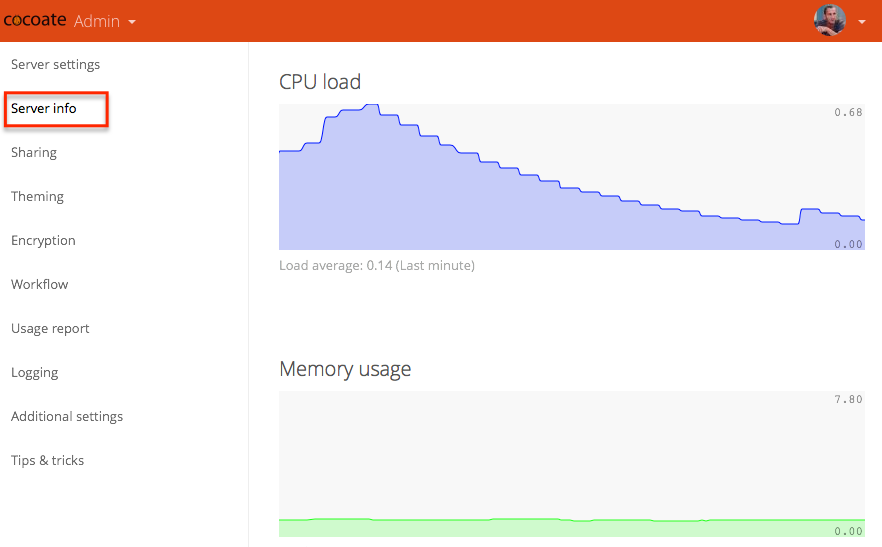 Text editor
Create a new file online and write something! The screenshot is a gif animation including a problem that is solved by Nextcloud itself … have a look!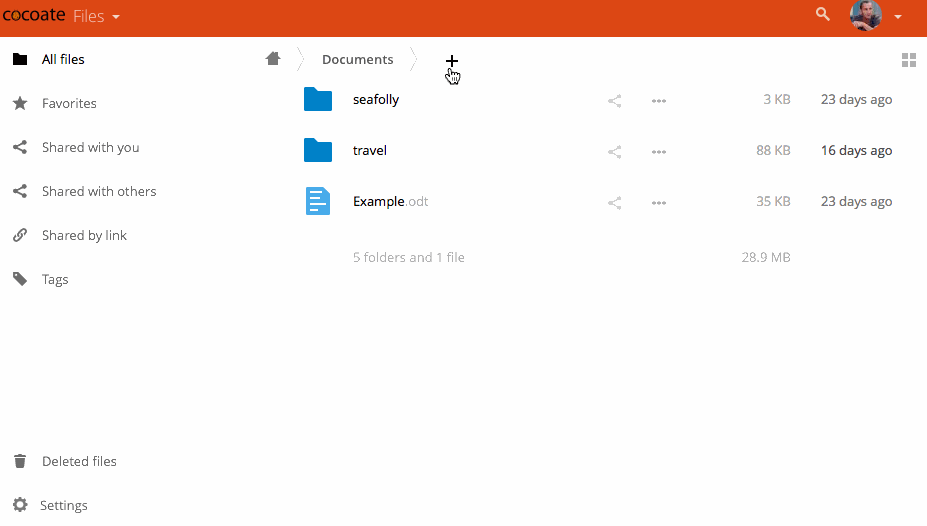 Theming
You are already wondering about the nice orange color on top of the screenshots?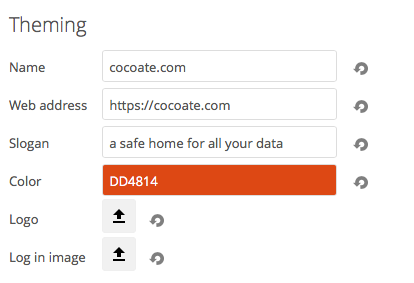 Have a look at my login page (https://cloud.cocoate.com) and upload a nice log in image to your personal cloud!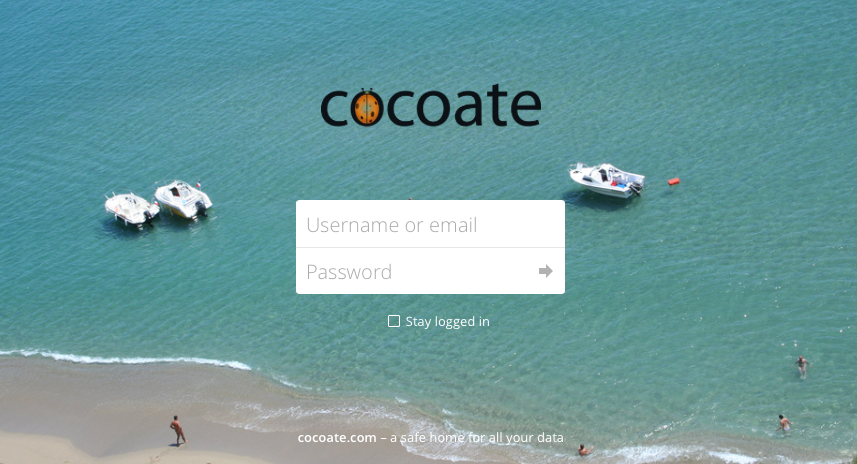 Update notification
It displays update notifications. I saw it for the contacts app but I was to slow to take a screenshot (next time).
Usage report
Sends anonymized data to help to improve Nextcloud. You can disable it at any time.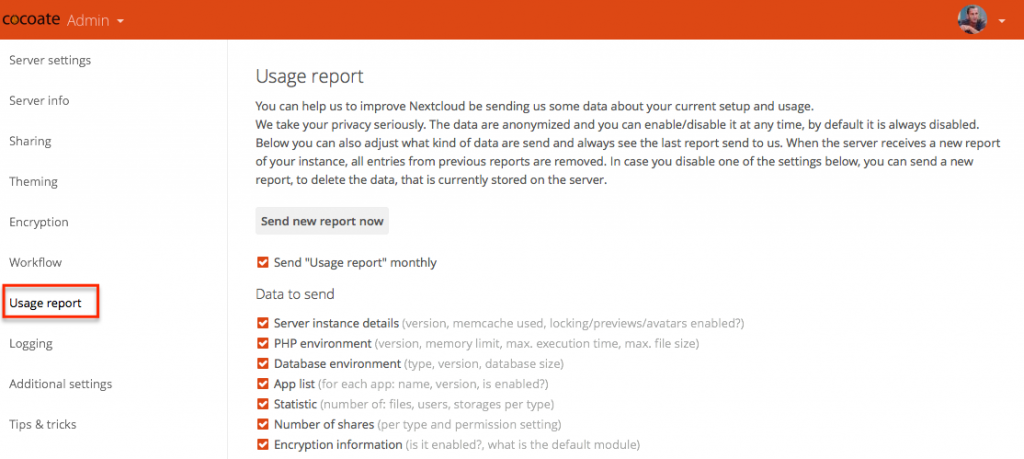 Versions
This application automatically maintains older versions of files that are changed.
Video player
Yes, there is a video player in Nextcloud! Click the link (https://cloud.cocoate.com/index.php/s/By6txeI6Hws38B8) for my shared video of @maxilamps.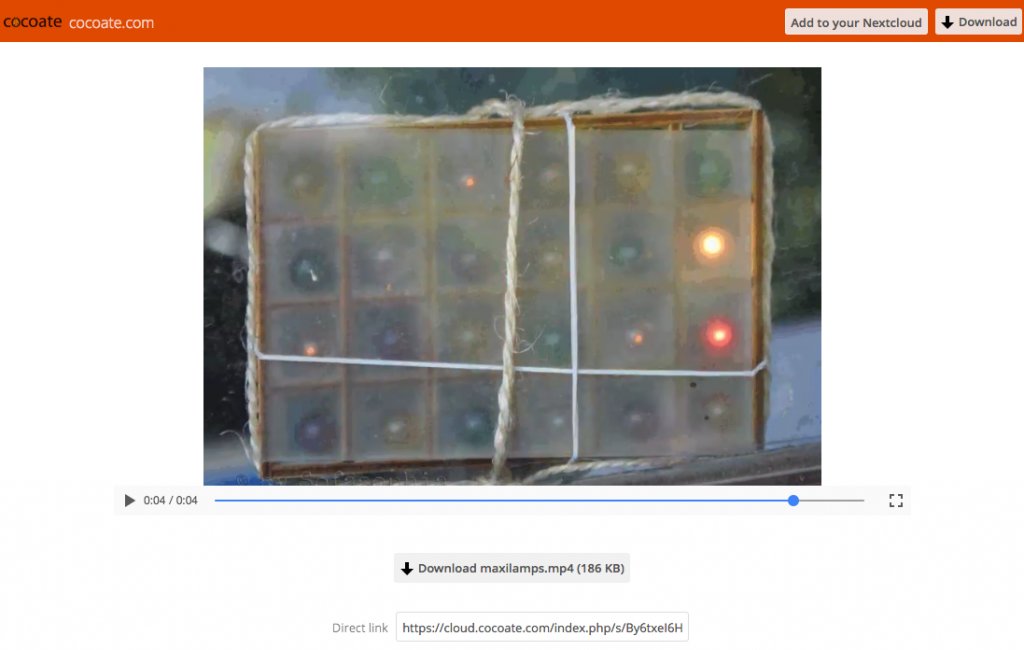 Nextcloud – Video Player
Have a short break …
My initial plan was to try out and describe the Nextcloud apps. What I described so far in this blog post is a short glimpse on the official apps which are enabled by default! There are more official apps you can enable at any time (Default encryption module, External sites, External storage support, External user support, File access control, Files automated tagging, Gallery, LDAP user and group backend, Mail template editor, Retention, SAML authentication) and there are also the approved apps which can be enabled by just one click (News, Bookmarks, Documents, Tasks, JavaScript XMPP Chat, OwnBackup, ownNote – Notes Application, QOwnNotesAPI,Shorten).
May be now you get a better impression what the Nextcloud ecosystem is about and how interesting it already is!
Now I'll start to play around with the "not enabled" official apps and will come back soon with a new blog post.
---
tl;dr: The Nextcloud ecosystem is an amazing collection of useful apps and it's growing and improving every day. Have a look at it!