Et voila, the first upgrade to a new major version is necessary. Yesterday the Nextcloud team released Version 10 with plenty of new and shiny features. Everything will get better, faster and more secure. (Release announcement – Secure, Monitor and Control your data with Nextcloud 10 – get it now!). Thank you for that!
How to upgrade?
What has changed is the version of Nextcloud server. The iOS app works with both versions well (9.x and 10.0).
So how to upgrade the server?
A first look in the admin dashboard tells me, that there is no update available and my version is up to date.

I know it better because I read the release announcement and they say there is a new version! The sad truth is that the Updater in Nextcloud 9.53 doesn't work. Unfortunately it is not possible to upgrade to the next version via a button click! The Updater will be fixed as soon as possible and I know it is a lot of work but for me and my personal cloud it will be a challenge.
Upgrade on shared hosting
As you know, I'm running my Nextcloud on a shared host and I installed it via the amazing web installer. Because of the broken Updater I have to do the Manual Nextcloud Upgrade as described in the documentation. The general workflow is the following:
Backup files and the database is in general a very good idea!
Move all Nextcloud files to a backup directory or simply rename the Nextcloud directory to [name]_old.
[Update]
Don't forget to backup/save and copy back your data directory (see first comment from Luke).

Download and unpack the new Nextcloud files in the [name] folder.
Copy the /config/config.php file from your saved version to the new version
Depending on you hosting environment you can copy the files via command line, FTP or a tool like cPanel.
Now access your Nextcloud in a browser. The installer will show the database update screen. Click the Start Update button.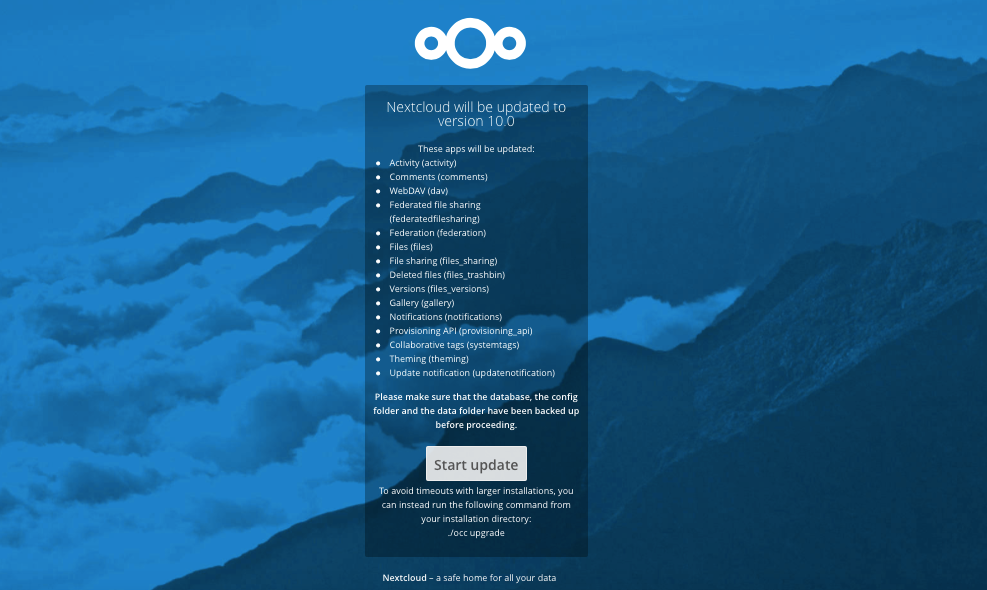 Plenty of update steps will be shown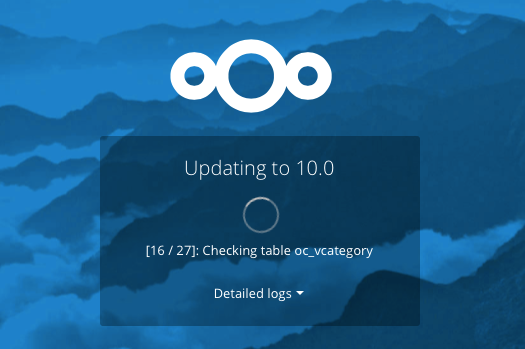 and … your done! That's it! You will be redirected to the login screen.
Have you noticed? The form fields are shaking if you try to login with wrong credentials
In the admin area you can check the Nextcloud version … and … it's Nextcloud 10 – congrats!

Don't forget to delete the old files and hopefully this was the last time that we have to do an upgrade like this :)
And now take a bit time to read the release announcement – Secure, Monitor and Control your data with Nextcloud 10 – get it now! and play around.
---
tl;dr: The upgrade from Nextcloud version 9.53 to 10.x works well!