I had no idea what to expect from this conference but something inside said to me
Go to Berlin, it's important!
So I went to Berlin to attend at least two days of the conference at Technische Universität. The Berlin Technische Universität is one of the largest and most prestigious research and education institutions in Germany and for a whole week the center of the growing Nextcloud community.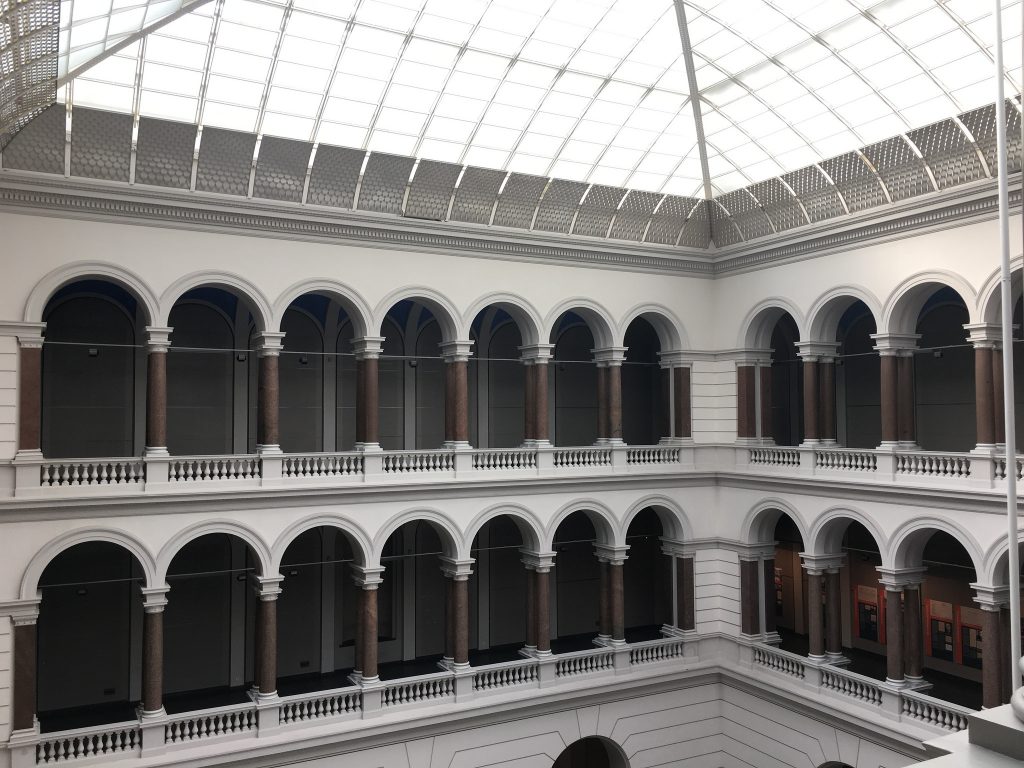 The future of Nextcloud
In Frank Karlitscheks talk about the future of Nextcloud he also talked about sustainability and the way how Nextcloud will develop in the next 20! years:
"We are a bit of a boring German company ;) the whole company is about sustainability" #nextcloudconf #nextcloud pic.twitter.com/vI60hfD2UX

— Hagen Graf (@hagengraf) September 16, 2016
During the talk, he showed Nextcloud 10 features und someone from the audience asked when this version with all these nice features will be released (easy answer, it was released a few weeks ago). In the meantime Klaas tweeted two feature request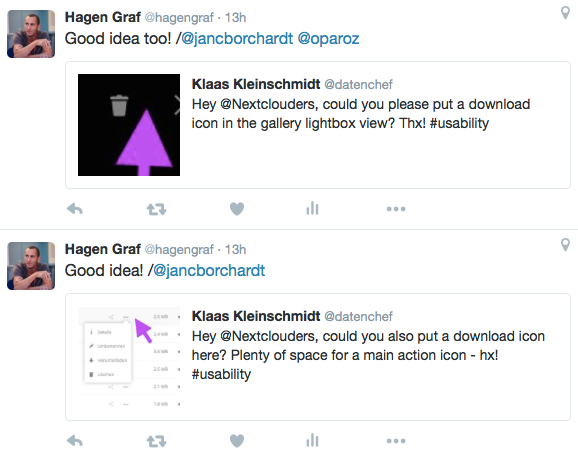 Security Architecture
Lukas Reschke talked about Nextcloud security architecture. I liked the idea that the same developers who wrote the code are responsible for fixing their own bugs.
Federation
Bjoern Schiessle is working since four years on the federation subject and showed an overview of the ideas behind the concept and it's future.
The whole cloud federation thing is so important – listening to @schiessle #nextcloudconf pic.twitter.com/fSCbrgQmyN

— Hagen Graf (@hagengraf) September 16, 2016
In Nextcloud, it's possible to share your files with a remote user. A remote user is a user in another personal cloud installation that supports the federation concept (e.g. Nextcloud, OwnCloud, Pydio). To share a file you have to insert the cloud ID of that user [username]@[domain] and Nextcloud sends a notification to the remote user. The remote user can decide whether he wants to accept the share.
You find your own Cloud ID in your Nextcloud profile page. Share it!
You can find your cloud id in your profile #nextcloudconf #federation #lasttweet pic.twitter.com/GSTYtKTgKR

— Hagen Graf (@hagengraf) September 16, 2016
MySql Database Scalability
Oli Sennhauser (FromDual) gave a talk about MySQL database scalability. The interesting thing for me was that he was not familiar with the Nextcloud software. So he asked users and developers in the audience questions how Nextcloud is handling this and that. Based on the answers he described possible problems and solutions.
Learning about database scalability with Oli from @fromdual #nextcloudconf pic.twitter.com/ai6A9e7Fb8

— Hagen Graf (@hagengraf) September 16, 2016

After the lunch break I missed half of Arthur Schiwons talk about User Management in Nextcloud. Nextcloud has a variety of authentication mechanisms needed to fit comfortably in the diverse enterprise authentication landscape. I learned some new abbreviations: LDAP, SAML, ODP, ….
User management session with Arthur Schiwon #nextcloudconf #ldap pic.twitter.com/lCd2Fni85Z

— Hagen Graf (@hagengraf) September 16, 2016
Nextcloud Scalability with a concept design for 10.000 users
This talk was interesting too because Dennis Pennings (360ict.nl) is planning to set up a huge Nextcloud installation. He researched a lot about possible solutions and he had plenty of question that were discussed at the end together with Frank and the audience.
Still discussing large installations #scalability #docker #redis #loadbalancers. Interesting ;) #nextcloudconf pic.twitter.com/ni1MvTBBAy

— Hagen Graf (@hagengraf) September 16, 2016
Slides, Videos
So far, no slides and videos are available online. I'll update the blog post when I find them.
Surprise, Surprise
During the day I saw tweets about a mysterious Nextcloud box, even an article in the German Heise Ticker (Nextcloud Box soll die Cloud ins Heim bringen).
Run Your Own Private #Ubuntu Cloud with the New #Nextcloud Box https://t.co/wdAPSVMstJ pic.twitter.com/kuCVPQAev0

— OMG! UBUNTU! (@omgubuntu) September 16, 2016
The Nextcloud Box
At 6pm the Nextcloud box was presented by Frank. I decided to install Periscope and tried to stream the event. After the third try it worked! Here are the exiting 20 minutes!
LIVE on #Periscope: Sorry for confusion- now it seems to work #nextcloudconf #surprise https://t.co/rzmgtmg344

— Hagen Graf (@hagengraf) September 16, 2016
The box is real
Directly after the "surprise show" Jos arrived with 50 Nextcloud Boxes and I bought one (70Euro).
The first Nextcloud box being sold at #nextcloudconf, 8 more followed soon after. pic.twitter.com/PM4Mffaibs

— Robin Appelman (@icewind1991) September 16, 2016
The next guy in the queue was Guido Stepken and he bought seven!
7 #nextcloud boxes are going to Berlin schools, sponsored by @GuidoStepken pic.twitter.com/hTLmF6E0sd

— Hagen Graf (@hagengraf) September 16, 2016
While writing the blog post I saw that nearly the same box design exists for the Open Source Media Center (OSMC PiDrive).
Update Sept 17th: I just learned that the OSMC PiDRive is based on the Nextcloud  Box design. It is and was the intention of Nextcloud to offer the box design to other projects.
Conclusion
The day was super interesting an now I have to sleep. See you tomorrow!