Yesterday I started my trip to Germany for attending the hackweek at Nextcloud headquarters in Stuttgart. The photo on top is taken where I started from. As you can imagine one has to be really motivated and curious to leave a place like this ;)
I arrived on time today in the morning, my phone noticed the right SSID but I didn't found the entrance to the office.
Luckily I was not the only one (@oparoz was lost too) and finally @nickvergessen picked us up.
The day started with a discussion about the agenda.
At 11am we had a kind of plan: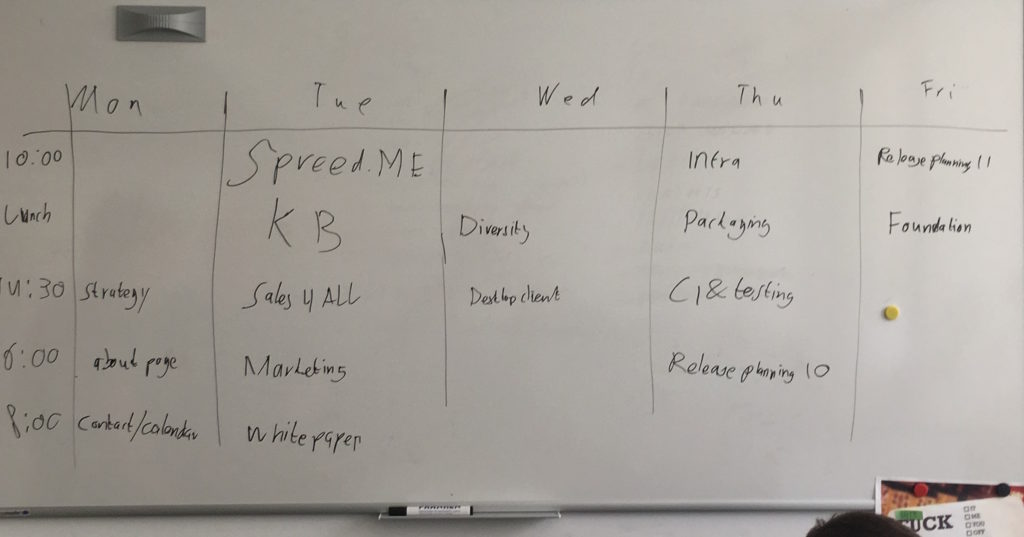 As often at events like this WiFi wasn't working. Same here, if more than 10 people tried to connect. Finally we found a few cables and adapters to provide everyone with internet.
Bjoern and Lukas played around with the theming feature …
Yes, we have a theming feature :;) https://t.co/fMu4Vbhbmk /@Nextclouders @schiessle @lukasreschke #hackweek pic.twitter.com/sJANfiQUpT

— Hagen Graf (@hagengraf) August 1, 2016
Frank talked about the vision, goals and idea of the Nextcloud company. That's the vision:
Nextcloud gives people and organisations a secure and private way to control their data and communication #nextcloud #vision /@Nextclouders

— Hagen Graf (@hagengraf) August 1, 2016
Furthermore, the goal is to make the world a better place. It sounds initially maybe a bit old fashioned, but in my opinion it is a very nice goal!
I was then researching what I could do and joined Andreas, Philip and Daniel on a talk about Nextcloud Partner models. After that I decided to help out with missing documentation.
Unfortunately, I'm not perfect with git commands. Julius helped me and I actually managed to commit a small documentation for anonymous uploading of files created (File Upload via Public Link).
I missed the discussion about the new planned features in the contact and calendar app (have to ask tomorrow).
Did you know that Jos has a dog named popcorn who is attending the hackweek too?
This is Popcorn #nextcloud #hackweek /@jospoortvliet https://t.co/GNEm7y3n5D

— Hagen Graf (@hagengraf) August 1, 2016
In the evening we had Pizza …
… and finally a beer at Palast der Republik.
On the way back to the hotel I learn a lot about PokemonGo :)