Last week, David Opati Aswani visited us here in Fitou, France. He is doing a lot for the Joomla project in East Africa and I met him for the first time in Bangalore, India at JWC15 (Joomla – A Social Movement In Tech Industry?). He invited me to CMSSummit 2016 in Kampala, Uganda and I enjoyed every minute. Then it happened that Jandbeyond 2016 took place in Barcelona, Spain (200km from the place where I live). Unfortunately, it was not possible for me to attend, so I was happy that David decided to visit us in our small village. We spend a few days together and it was funny, interesting, inspiring, motivating, encouraging and sometimes a bit sad, especially during a traffic stop of the Spanish police. They carried machine guns and stopped our car at the border between France and Spain. Four policemen first searched the luggage of David, then both of us and then the car. Other policemen surrounded our car. Welcome to the "new Europe" with fresh border controls!
Luckily, the rest of the stay was without these kind of incidents.
Joomla
Even if I'm not so present at Joomladays all around the world anymore, I still use the software, write some blog posts about it (in German) and try to follow the development of the Joomla project. I noticed that the community of the Joomla project became more and more a market for extension developers and template clubs and there was and still is a lot of #jpolitics. I also noticed, that the Joomla software is still very useful, easy to install and to maintain and that it's totally possible to make a living from using Joomla for clients and/or yourself. At #jwc15 Hung Dinh from Joomlart asked me, whether I would write again a book about Joomla if he sponsors me. I agreed and started to write but then the release of Joomla 3.5 was delayed and the project stunted.
With David I talked not much about Joomla but during his stay I noticed that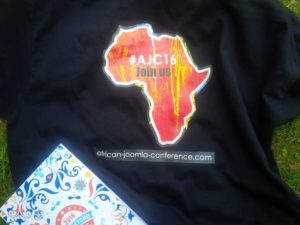 CMS Summit 2017, organized by David, Shedy and Oduor will be held in Abuja, Nigeria and they are looking for sponsors – anyone?
David tries to organize a JoomlaDay in Somaliland and is also looking for sponsors – anyone?
the "official" budget of Open Source Matters for travel costs and sponsoring of Joomla days was cut (I don't know details).
Update: I still don't know details but I was told I should write

"appears to be under threat"

instead of cut!
if more people could learn to develop, contribute to core, sell extensions and services it would be a good business for the individual and a good deal too for the project. For most people, Joomla is a source of income!
Joomla needs "fresh ideas", people in Joomla are often very old (me included ;) )
there are other CMS's in this world (e.g. WordPress, Drupal, PageKit, Grav, List of CMS)
Important Disclaimer: These are my thoughts and interpretations. David don't know that I write something in my blog about these topics and at the moment he is in a plane ;).
During his stay, he took a photo of some of the books I wrote between 2002-2010 and published it on his Facebook profile.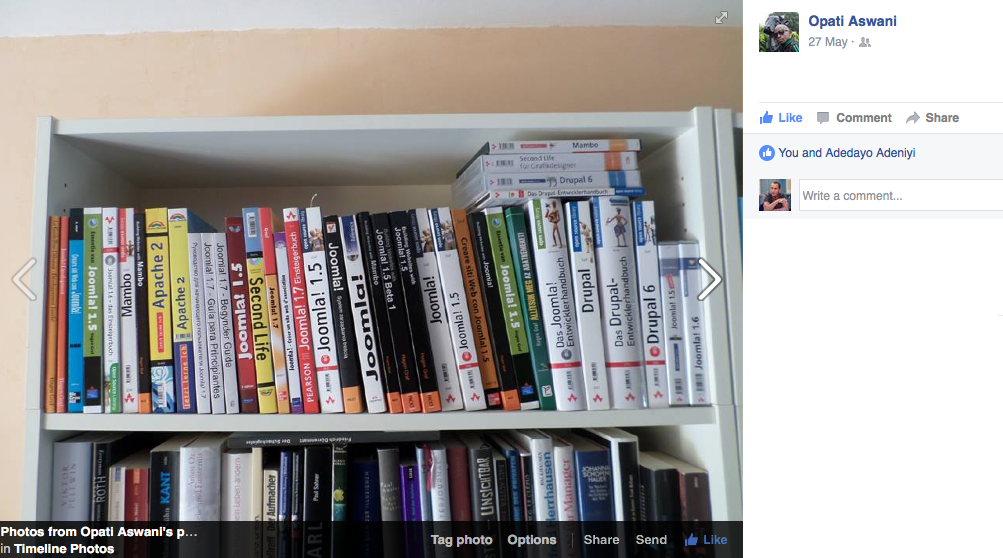 Since the release of Joomla 2.5 I published the books by myself with the help of sponsors and offered them as a free download. People like that and still until today I receive feedback. The last book was about Joomla 3 and I wrote it in 2012 (Free PDF download).
Idea
Today I brought David to the airport in Barcelona for his flight to Kenya. On the way back I thought it might be a good idea to write again about Joomla (and beyond). The "and beyond" part is important. Joomla is a good Content Management System and with a little bit of know how it is possible to build amazing websites. The more "and beyond" you know the easier it will become to earn money with Joomla!
Iron Blogger
Since last year I'm a so called Iron blogger. Iron bloggers are publishing a blog post every week and because the language I know best is German, I joined a German Iron Blogger group (Ich werde Iron Blogger :)). The basic idea is very simple. Everyone who participates needs a blog (CMS doesn't matter). He or she has to write one blog entry per week. All the blog posts will be aggregated.
From now on, I'll try to write about Joomla (of course in English).
If you like the idea, join me, become a Joomla Iron Blogger too and tell me about your decision in a comment :)
A good topic for the first entry could be
where do I get information about Joomla?
what means "and beyond"?
some websites made with Joomla!
how to publish content in Joomla, especially images?
how to create a template?
how to develop a simple component?
how to develop the iron blogger component :)